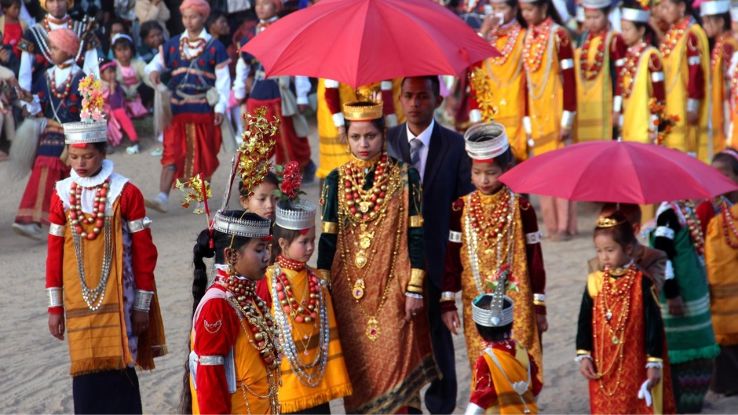 Content in the Article:

The tribal-dominated hilly Meghalaya celebrates Nonghram, a religious affair of the inhabitants of Khasi hills (Khasi tribe). The five-day long religious ceremony is conducted with all the associated fervour, rituals, and obeisance to Goddess Ka Blei Synshar. Goat sacrifice (Pomblang) is an important ritual on the occasion.
Nongkrem festivities are an agrarian festival and so people pray for a bumper harvest and material prosperity for people.
The festival is usually celebrated in May but may at times be observed in November. The variable of date may be due to the shifting of lunar position which determines the date of next carnival. In 2018 the festival took place on 11th -12th November.
The religious occasion witness a dance carnival and a popular dance style Shad Nangkram is performed.
The tribal festival reaches its zenith with the ' Khasi dance' by young boys and girls dressed in their traditional best. Nongkrem Dance is performed at 'Smit' in Nongkrem, near Shillong.
On a visit to Khasi hill and to Smit one gets to see and gain knowledge about Khasi attires, ornaments. Unmarried or married boys and mostly unmarried girls Nongkrem dancers wear traditional attires and jewelry and dance to the tune of ''Sing Masteih'. Nakra' or 'Bom, Tangmouri, Padia, Ksing etc are customary musical instruments played during the Carnival. The Nongkrem dance movements are like warriors in a defensive mode. The essence in the dance pattern is that the tribe is ever-ready to guard their womenfolk, property from the outsiders.
Date: May 2019
Place: Khasi Hills, Meghalaya