Content in the Article:

In India month of March has a palette multi-hued with exuberant festivals, fairs and events. With winter having lifted its veil from almost all parts of India, chirpy spring beams with a bountiful of offers apt for a joyful sojourn in March.
Here are some such delectable shades of Fairs and Festivals of March in India.
1. MAHA SHIVARATRI
Maha Shivaratri or Great night of Shiva is a significant religious festival in Hindu lunar calendar. The annual fest dedicated to Lord Shiva (one of the three Gods of Hindu pantheon) is usually observed in the month of February/ March. As per Hindu calendar, there is a Shivaratri every 13th/14th day of a month, but the one celebrated on the month of Magha or Phalguna or before the onset of summer in India is devoutly known as "Maha Shivratri".
The auspicious occasion is shorn of cultural revelry and is a solemn occasion as people visit temples, chants shiva matras, keeps fast, stays awake all night. Maha Shivaratri night is symbolically meant to overcome ignorance and darkness and move towards enlightenment by adhering to such virtues as doing yoga, self-restraint, honesty, forgiveness, introspection, abstain from harming others etc.
The festival is celebrated across length and breadth of India and in Nepal also. At some place 'Maha Shivaratri' is also known as 'Jagara', 'Har-ratri' etc.
India is dotted with many famous Shaivite places of worships and these abode of Lord Shiva celebrates Maha Shivaratri with all the associated rituals and devotion.
Some places popular for Maha Shivaratri celebration and worth visiting are as follows.
Tilbhandeshwar Mahadeva Temple Varanasi (Uttar Pradesh)- Built-in 18th century Tilbhandeshwar Mahadeva temple in southern Varanasi is one of oldest temples in whole Varanasi and is an admixture of Vanarasi and Malayali cultural traditions. The temple houses Swayambu Shiba lingam. Wedding of Shiva and Parvati takes place at night with religious fervour and people dance in a procession after partaking a special drink of sweetened milk heavily spiked with 'bhang' and other spices.
Bhoothnath temple Mandi (Himachal Pradesh)- The ancient Bhoothnath temple in Mandi, built in 1527 has been celebrating week-long Maha Shivratri The erstwhile royal family of Mandi also started the fair 5 centuries back and the Fair is looked forward to by International tourists also.
Haridwar and Rishikesh (Uttarakhand) - Prajapati Daksha Mahadev Temple, Mahamrutunjay temple, Bilvkeswar temple, Neeleswar temple in Haridwar receives hordes of devotees during Mahashivratri celebration. Neel Kanth Mahadev Temple of Rishikesh located amidst dense forest and atop a hill is most popular Shiva temple in Rishikesh. Others Shiva temples in Rishikesh are Bhoothnath temple, Trayambakeswar temple (one of the 12 jyotirlingas) also engage in festive euphoria.
Matangeshwar temple Khajuraho (Madhya Pradesh) - Matangeshwar temple in Khajuraho witnesses a huge footfall during Maha Shivratri celebration. A 10-day fair adjacent to the temple is always looked forward to. Khandariya Mahadev temple, Viswanath temple are other popular destinations in Maha Shivaratri day.
Mahakaleswar temple in Ujjain (Madhya Pradesh)- Mahakaleswar temple in Ujjain is one of the 12 jyotirlingas and the auspicious night of Maha Shivaratri is celebrated with all religious fervour and unwavering devotion.
Omkareswar, Ujjain (Madhya Pradesh) - The sacred shrine Omkareswar temple has one of the 12 jyotirlingas. The occasion of Maha Shivaratri is celebrated with much solemnity and devotion.
Sri Lokanath temple Puri (Odisha)- Sri Lokanath temple in the Holi city of Puri observes Maha Shivratri in a ritualistic manner. People throng the site, lit 'diyas' and stay awake the whole night. The temple premises glows with the flickering light of numerous 'diyas'. Devotees breakfast after the 'Maha deep' is lifted atop the Lord Shiva temple around 3 AM. A huge 'mela' goes on in the vicinity of the temple located about 3 km from Sri Jagannath Temple.
Other famous places known for Maha Shibaratri celebrations in Odisha are Lingaraj temple in Bhubaneswar, Chandrasekhar temple in Dhenkanal, Akahandalamani (Aradi) in Bhadrak, Ladubaba in Nayagarh.
Nashik, Maharastra- Nashik district is renowned for some famous Saivite shrines like Trimbakeshwar Shiva Temple ( Trimbak) and Shri Someswar Mahadev temple (Someshwar). Trimbakeshwar Shiva Temple has one of the 12 jyotirlingas and Someswar temple is another popular Shiva abode. Kalpeshwar temple(Ramkund) is dedicated to Nandi, Shiva's bull. Lakhs converge on these divine shrines to pray to Lord Shiva and behold Palkhi procession of the deity.
The Mallikarjuna temple, Sri Sailam- The Mallikarjuna temple in Sri Sailam ( about 212 km from Hyderabad Telangana) is one of the 12 jyotirlingas. Known as 'Kailash of South' the temple dedicated to Mallikarjuna (Lord Shiva) is situated atop Shri Saila mountain on the banks of Krishna River. Lakhs of devotees trek up the mountain during the nine-day festivity and Maha Shivaratri rituals begin at night. Lingodbhava Maha Rudrabhishekam is one of the attractive rituals conducted by 11 priests during the late hours of the night.
Srikalahasteeswara temple, Srikalahasti Andra Pradesh-Srikalahasteeswara temple in Srikalahasti is another famous Saivite shrine. A pompous procession of Shiba and Parbati's wedding marks Maha Shivaratri occasion.
Srikalahasti, Chittoor, Andhra Pradesh -The Holi town of Srikalahasti has one of the sacred shrines of Shiva named Srikalahasti Temple built by Pallava dynasty. Utmost gaiety marks the 14-day festivity. Lord Kalahastiwara is taken out in procession in 'vimanas'. Many intricate rituals are performed during the ceremony.
Kashmir Valley-Maha Shivaratri festival is called ' Herath' in the Valley and commence two days before and end two days after the calendar event. A three-week long Puja is observed in various Shiva temples like as in Shankarachariya temple 1000m atop Takhat-e-Suliman peak.
Umananda temple, Assam The Umananda temple located in a small peacock island (in the middle of river Brahmaputra) sees one of the grandest Shivaratri celebrations in Assam. Thousands of devotees ascend on this temple known for sculptures and intricate engravings.
Shivasagar Shivdol, Assam-A city in Shiv sagar district in Assam is famous for a Shivsagar Shivdol. Shivsagar Shivdol is a group of three Hindu temples of Shivadol. Other two are Vishnudol and Devidol.

The long queue of devotees from across India worship Shiva linga with ardent devotion and a huge fair and cultural extravaganza is held. Artists from Romania, Japan Italy, France and, the USA perform on the event.

Thanjavur- Tanjavur or Tanjore in Tamil Nadu has one of the excellent examples of Dravidian architecture in Brihadishvara Temple, also called Rajarajesvaram or Peruvudaiyar Koyil. The Mahashivaratri occasion sees devotees paying obeisance to Lord Shiva ( the presiding deity of the temple ) and organization of a number of dance festivals near the vicinity of the temple. Brahan Natyanjali festival spread over 10 days is one such festival.
Kanchi Kailasnathar- This temple is the ancient (built around 685-705 AD) temple in Kanchi or Kanchipuram and dedicated to Lord Shiva. Thousands of devotees throng the temple premises throughout the day as well in the night to offer prayer.
Date- 4th March 2019
Venue - All over India
2. HOLI
Holi is one of the most 'colourful' and vibrant Hindu festivals celebrated across India and is being popularized in abroad too by Indian Diaspora. A unique festival played with enthusiasm by not only Hindus but by all irrespective of caste and creed.
It is observed on the full moon day in the month of Phalgun and its origin has a mythological background.
The mythological story of tyrannical Hiranyakashipu who tried innumerable methods to kill his own Vishnu devotee son Prahalad is popular among Hindu masses. In one such killing attempt, Hiranyakashipu asked his sister Holika to help burn the little boy to ashes. But Holika was killed and her ashes were smeared by all as a sign of good winning over evil.
In some parts, Holi is believed as a 'festival of love 'observed to mark the divine love of Radha and Krishna. Many other legends associated with Bhagwan Krishna claim as the initiator of Holi.
Holi ushers in Spring and is a day to forget and forgive, undo errors. Over centuries Holi has attained the status of a national cultural festival and it has various facets in as diverse a region like India.
A brief account of such forms of Holi are-
Lathmar Holi - Barsana village, Uttar Pradesh- People uses not just colours but 'lathis' as the womenfolk of the region chase away men with lathis on 'Holi'. An interesting approach replete with humor and joy this rather 'crazy' tradition is celebrated in parts of Uttar Pradesh such as Vrindavan, Nandgaon, Barsana, and Mathura.
In places as Mathura and Vrindavan where Krishna spent his childhood years, Holi is played with gusto and lasts over a week. People smear colour on idols of Krishna and Radha and offer 'bhog' and prayers.
Rangabhari ekadasi- Palghun (Sukla) ekadasi is otherwise known as Rangabhari ekadasi. Baba Viswanath ( Lord Shiva) of famous Viswanath temple in Varanasi is decked especially on the occasion. Holi festival starts on this day of Rangabhari ekadasi. As per mythology, on this auspicious day Goddess Parvati for the first time set foot on Varanasi after her marriage to Lord Shiva. A grand procession of representative idols of Shiva family starts from Kashi Viswanath temple march on the winding lanes of the ancient city. To the blowing of conch and music of 'dambaru' people smeared in 'gulal' marches on playing Holi with Shiva family.
On this day onwards, for Six days Varanasi drenches itself in colours and an energetic joyousness sets in.
Basant Utsav, Dol Jatra( West Bengal)- Basant Utsav celebrated in Shantiniketan is unparalleled. The Utsav sees Tagore's poetry recitals, songs and, traditional dance programmes. Dol Jatra is a procession of Radha and Krishna on the streets of villages and towns in West Bengal in rhythm with traditional songs and music.
Basantotsaba (Odisha)- Otherwise known as "Dola Purnima" or the spring-festival, Lord Jagannatha In Puri Jagannath Temple is worshipped as Dolagovinda on this day. Later HE is decked up in 'Raja Dhiraj Besa' or 'Suna Besa'.
Rural Odisha becomes multi-hued and festive four days before 'Dola Purnima' as a procession of 'vimanas' carrying idols of Radha and Krishna goes around the village. Almost all villagers offer 'bhog' to the deities and the festival culminates with all the vimanas assembling on 'melana' ground.
Holi too is played by Odias a day after 'Dola Purnima'.
Khadi Holi- Kumaon region (Uttarakhand)-Otherwise known as Baithika Holi( musical gathering performing folk songs), Khadi Holi( dancing and singing to the accompaniment of traditional musical instruments) or Mahila Holi (gathering of women) the Kumaon region observes Holi wearing traditional clothes, dancing and singing 'khari' songs.
Phagua , Bihar- Also known as 'Phaguwa' the day sees burning of Holika before playing Holi with colours. 'Bhang' consumption is a sort of ritual on this day.
Yaosang, Manipur- Identified as a form of 'Holi' in this northeastern state the festival is observed for four days. The first day sees burning of a straw hut (Yaosang Mei thaba) after dusk. Sankirtans are performed on the second day. Children go around the village asking for a donation (nakatheng) on the third day. The fourth day sees the actual splashing of colours on each other.
Fakua, Assam- In the Barpeta region of Assam the festival of Holi is called Fakuwa or Doul Mahotsav. People celebrate the event with equal gusto and gaiety. Mahaprabhu Doul Govinda is worshipped in the four-day festive period.
Manjal Kuli or Ukuli, Kerala-Kerala is not a Holi playing state as North, east of west is. Still, some Keralite community like Gaud Sarawat Brahmins Kudumbi community and Konkani people observe a festival named Manjal Kuli or Ukuli which is 'Holi' for them.
As in other parts of India, Ukuli starts on full moon day and lasts for four days. It is celebrated in Gosripuram Thiruma's Konkani Temple. Holi in Kerala is played more by youngsters in urban areas.
Shimga or Rang Panchami, Maharashtra-In Maharashtra Holi is known traditionally as Shimga or Rang Panchmani and is more popular amongst fisherfolk. Singing, dancing, merrymaking and playing with colours is only on the fifth day (Ranga Panchami which falls five days after Phalgun Poornima). Puran Poli is a special delicacy prepared on this auspicious day.
Date -20th -21st March 2019
Venue - All over India
3. INTERNATIONAL YOGA FESTIVAL, RISHIKESH
International Yoga festival is organized by Parmarth Niketan Ashram, Rishikesh. The annual event started in 1999 is a must 'include' in the travel list of any Yoga follower planning a visit to Uttar Pradesh. Over the years, the festival has grown to be the largest yoga assembly in the world.
The month of March sees the Rishikesh, the birthplace of Yoga inundated with Yoga practitioners, enthusiasts, learners, trainers, spiritual leaders from as many as 40 countries and other parts of India as well.
Lectures and demonstrations of a wide range of Yoga style and asanas are conducted by distinguished proponents of Yoga. Spiritual masters like Shankaracharya Swami Divyanand Teerth, Swami Chidanand Saraswati, Swami M.M. Asanganandji, Swami Avdheshanand Giri, Pranav Pandya grace the occasion. Discourse on Yoga, talk shows and vegetarian cooking classes are other activities. It's a holistic experience for anyone as evening turns divine with Ganga Arti followed by cultural programmes.
Date- 1st March- 7th March 2019
Venue-Across Rishikesh
4. KASAULI RHYTHM AND BLUES FESTIVAL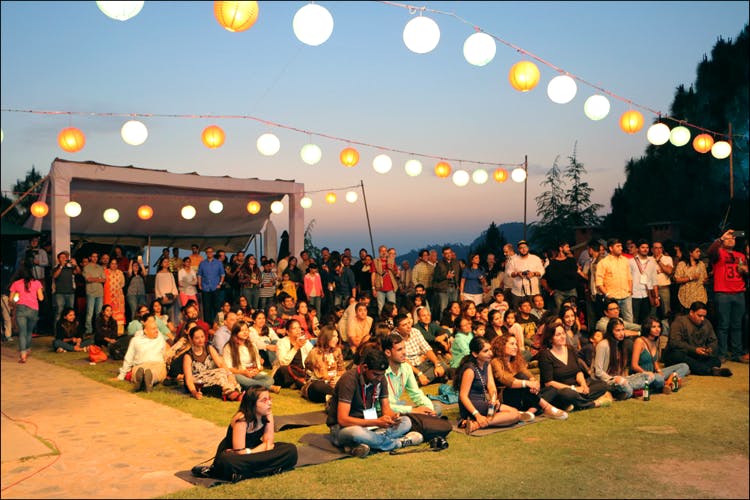 Innumerable music festivals organized in various parts of India throughout the year celebrate India's rich music tradition and culture specific to the locale of the event.
Another such Music festival is Kasauli Rhythm and Blues festival initiated by Genesis Foundation in 2012. The Genesis foundation works for critically ill, underprivileged children and its aim of starting such an event is to increase its number of donors and create awareness.
A strong belief in Music being a positive and participatory force in ushering in 'change', the organization invites celebrated artists, musical bands and some new musical talents to perform for a cause.
The musical event is held at Kasauli, Himachal Pradesh.
Apart from savouring the rich music flavour, visitors could take delight in roaming around the scenic hill town of Kasauli. The breathtaking views of the sunrise with the grandiose Himalayas at the forefront would worth the stay at Kasauli.
The fascinating landmarks of this erstwhile cantonment (established by British) are Manki Point, Nahri temple, Kasauli club and, Krishna Bhagwan Mandir.
Time-March 30th -31st 2018/ 2019 date not confirmed
Venue- Kasauli, Himachal Pradesh
5. GOA CARNIVAL
Goa carnival, roots back to Mardi Gras revelry, a feasting, dancing and boozing indulgence. The Christian tradition initiated by Portuguese upon their arrival in Goa in 1510 became an integral part of Goan cultural life. Celebrated with gusto and loads of energy, Goa Carnival (the modern-day avatar of Mardi Gras) actually precedes the abstinence and fasting in the Lent season (a Christian fasting period before Easter).
With the departure of Portuguese in 1960, the three-day fun and merriment period was given an urban look with gorgeous float based parade and more.
It is said Goa comes under the rule of King Momo during the carnival period.
So the main highlights of the festivals visited by thousands of tourist include; a huge procession headed by King Momo, accompanied by live bands and dances moving the streets of Goa, street side local plays, Goan skyline dotted with multicolored balloons, acrobats, clowns, horse-drawn carriages, decorated bullock carts, masked and heavily costumed revelers dancing to the tune of electrifying music, and also delectable Goan cuisines etc...
Float parades are grandly held in cities like Curchorem, Margao, Panaji, Ponda, Vasco, Mapusa and Morjim.
Time -2nd - 5th March 2019
Venue-Across Goa
6. SHIGMOTSAV
Shigmotsav is a widely observed festival of the Hindu community and the Konkani diaspora in the coastal state of Goa. Celebrated in the month of Phalgun (March), Shigmotav is yet another festival showing adherence of Goan people to an age-old tradition. Shigmo is a Konkani word synonymous with Pakrit "Suggimaho" and the Sanskrit "Sugrishmaka". Dhakto Shigmo and the Vhadlo Shigmo are two types of Shigmo festival. While Vhadlo Shigmo ( big Shigmo) is celebrated throughout Goa, Dhakto Shigmo( small Shigmo) is limited to the rural areas and observed by farmers and labour class.
Both the varieties of Shigmos have their own respective set of rituals and starting dates. Dhakto Shigmo begins five days prior to the full moon of Indian lunar calendar and ends on full moon day. Vhadlo Shigmo begins on full moon day and continues for five days.
It is believed that the festival was observed to mark the return of warriors to home after fighting with Portuguese invaders. Similarly, the two varieties of Shigmo has its beginning with the history of Portuguese conquering Goa in two parts. 'Old conquests' referred to areas conquered first and 'New conquests' was the further expansion of Portuguese rule to present day Goan areas.
People planning a holiday to Goa during March would be enthralled at the vibrancy of Goan cultural texture. The 15-day long festival witness parades consisting of multicolored attired folk and street dancers, intricately decorated floats displaying scenes from mythology and other religious themes. 'Romta Mel', a type of folk dance and other dances imbuing rich cultural heritage of Goa are Hanpet, Talgadi, Fugdi dance, Lamp Dance, Ghode Morni (Horse dance) and Gopha. The songs sung during the period are Naman and Jot.
Vhadlo Shigmo is celebrated in temples like Phatarpya, Jambavali, Kansarpa, and Dhargale. The fiesta period sees a large conglomeration of local and tourists. The 5th day is ' Rang Panchami' and is similar to another popular festival 'Holi'. On the 5th day of Vhadlo Shigmo people smear 'gulal' or red powder on each other faces
Date: 21st March 2019
Venue: Across Goa
7. VELAS OR KONKAN TURTLE FESTIVAL
Velas is a small eco-tourism Konkani village in Ratnagiri district of Maharastra. It has earned the distinction of being an eco-tourism habitat with arrangements of homestay in local villager's house. Velas is well known for its pristine beaches. Another significant attraction is, it is home to about 40% of total endangered Olive Ridley population along the 720 km Maharashtra coastline.
A unique concept as Velas or Konkan festival was NGO, Sahyadri Nisarg Mitra (SNM) and the annual fest is aimed at conserving the species and increasing tourist flow to the sea-side Velas. Every year in February or March nature lovers, international tourists gather on the sandy beach to witness a marvellous sight. Hundreds of newly hatched Olive Ridley turtles come out of eggs and crawls towards the sea.
The picturesque locale has many other attractions in shape of historic monuments and bird watching.
Date- February- March
Venue- Velas, Maharashtra
8. GODWAR FESTIVAL
Godwar Festival is a Rajasthan state-sponsored Event aimed at boosting tourism flow to the lesser known locale as Ranakpur Pali in the district of Rajasthani areas of Godwar or Gorwar. The festival is organized by the district administration and tourism department and spans for 3 days.
Ranakpur is a small valley near Aravalli range and is sandwiched between Jodhpur and Udaipur. The renowned marble Jain temple (dedicated to Tirthankara Adinatha) is the most sought after by the visitors to this area.
While bhajan recitals, folk music and, dance reflects Rajasthani art and culture, other activities that keep people hooked are Marwari horse acrobatics, turban tying, tug of war, horse race, bullock cart rides, and camel safari, wildlife safari, rock climbing at Narlai village.
Incidentally, the venue for such an extravaganza is Narwania Lake. Visitors touring Ranakpur can also visit major tourist landmarks of Pali district and relish famous sweet dishes like 'Gulab Halwa' and can procure Mehendi.
Time: 18-19 March
Venue: Ranakpur, Pali, Rajasthan
9. ARATTUPUZHA POORAM
Arattupuzha Pooram is held as the 'Mother of all Poorams' and is noted for its magnitude and grandeur. Poorams are annual temple festivals generally held in temples housing Goddesses Durga or Kali.
The annual festival is held at the Sree Sastha Temple in Thrissur.
The 1400 years old 7-day event see a stunning conglomeration of Gods and Goddesses bought from 23 temples from different temples of Thrissur.
The unparalleled show of mighty caparisoned elephants decked up with bright coloured umbrellas(Muthukudas)and parasols along with their mahouts on a penultimate day is associated with Arattupuzha Pooram. Playing of traditional musical instruments like Chenda (drums made of cow skin)and Kuzhal ( a reed wind instrument) form are part of the ritual tusker procession. Theevetti or huge flame-bearing staffs on the forefront of the tuskers adds an old world charm to the entire occasion. Elephants carry gods to the nearby water reservoir where Arattu or Holi bath takes place.
The Sasthavinte Melam or large assembly of percussion artists is another highlight of the festival. Other attraction includes folk dance performances, stunt artists, fortune tellers and spectacle of pyrotechnics. Tourist would be delighted seeing vignettes of rural life on the fairground.
Date: 19th March 2019
Venue: Sree Sastha Temple, Trissur, Kerala
10. CHINAKKATHOOR POORAM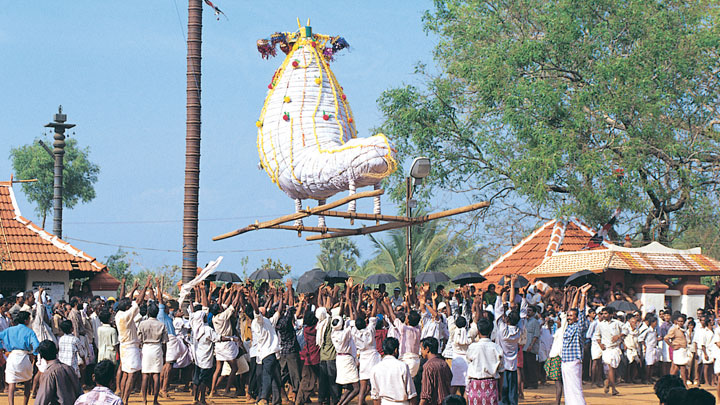 Chinkkathoor Pooram is yet another colourful temple festival held in Sree Chinakkathoor Bhagavathy Temple situated in Ottapalam in Palakkad district of north Kerala. The temple festival is held every February/March as per Malayalam calendar and local custom and traditions.
The highlight of the 'Chinkkathoor Pooram' is the Elephant pageantry. A majestic procession of about 33 festooned or bejewelled tuskers through the streets of Ottapalam to the rhythmic beating of pandimelam and panchavadyam (traditional orchestra) add to the charm.
A large number of local visitors as well as from around the globe are annually treated to other facets unique heritage of Kerala in form of traditional performances like Theyyam, Vellattu, Oothanum.
A ritualistic shadow puppet show known as Tholppavakkoothu, is performed at the temple premises every evening for 17 days preceding the conclusion of the festival.
Date: 20th March 2019
Venue: Chinakkathoor Bhagavathi Temple, Ottapalam, Kerala
11. PARTIALLY GAJAMELA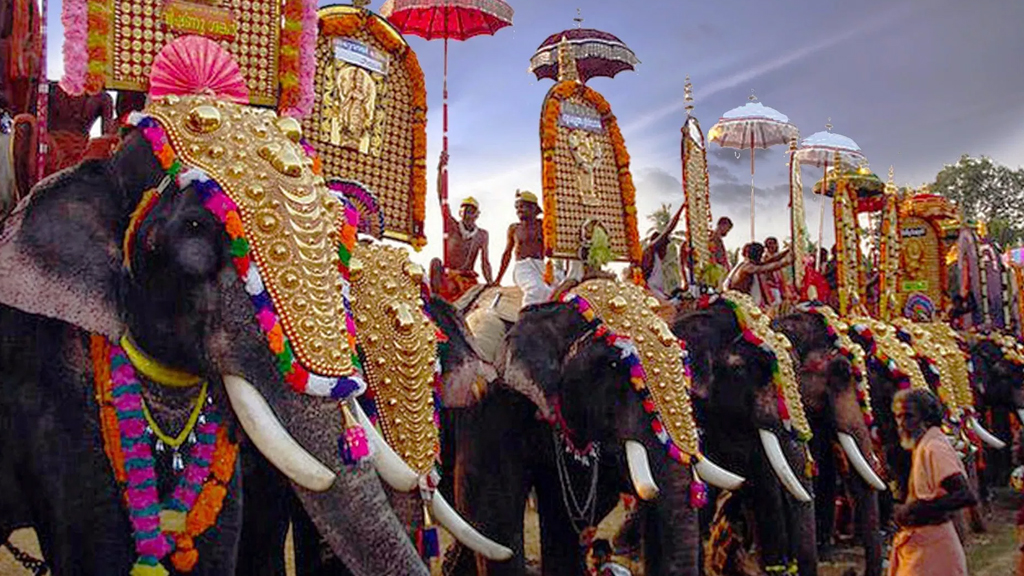 India is always known as the land of elephants as elephants are not only worshipped here but participate in wars. Many a legend and story surround these royal animals.
Talking about the festivals of Kerala, some ancient festivals are intricately associated with elephant procession.
Paripally Gajamela is one such festival where elephants are seen worshipped and revered with all associated rituals. Literally 'Gajam' means elephant and 'Mela' means fair. And if a traveller would like to race back to those days of antiquity, Paripally Gajamela is a perfect occasion.
The festival dates back to those days when affluent families of Kerala flaunted their wealth and power by ornamenting their tamed elephants and parading them on streets. This custom has now been given a tourist attraction angle.
The celebration is held at Paripally village, near Sree Bhadrakali temple about 48 km from Trivandrum.
The much-awaited organized parade of adorned elephants (the ornamental crown on the trunks are eye-catching) starts on the 10th day of festival and rituals like 'Nercha' are offered to the elephants. People believe such worshipping of the elephants will usher in peace and prosperity in the region.
Elephants sway to the music of panchvadyam i.e. five instruments along with this, drums, and other local instruments. Tourists keep thronging at this time of the year for the above-mentioned extravaganza and also for traditional food, a glimpse of local culture and striking beauty of the place.
Date: March 4, 2019
Venue: Paripally Kodimootil Sree Bhadrakaali Temple, Kollam district, Kerala
12. CHAPCHAR KUT
Kut means festival and Chapchar Kut is one of the three agrarian festivals of Mizoram and started around 1450-1700 AD. Other two are Mim Kut and Pawl Kut.
Chapharrefers to the seasonal activity of farmers drying bamboo under the sunlight. Mizos during the advent of spring clear bamboo forest for Jhum or seasonal farming.
With much time at hand during the season, Mizos celebrate 'Chaphar Kut' with bamboo dance(Cheraw), feasting and gaiety when the mountainous Mizo landscape springs to life with nature's bounty. The image of traditionally attired Mizo women jumping over a horizontally patterned set of bamboo staves rhythmically clapped against each other has been a feature of all Mizo festivals. The festival is also a thanksgiving ceremony to Gods for having saved them from harms during the previous season.
Other highlights of Chaphar Kut are Kut rore dance by various tribal groups of the region. Other major dances forms include Chheihlam, Khuallam, Chai and Sarlamka Parade and of men and women wearing colourful hats adorned with parrot's feather and beads. Flower show, beauty contests, music contest, food festival are a modern addition to this age-old fiesta. Thumna or vocational singing performances by local singers culminates the festival.
Time: First Friday of March every year.
Venue: Across Mizoram
13. MYOKO
Folk performances, fireworks, martial art, and drums mark the celebration of spectacular Myoko Festival. It is the annual New Year festival of Aptani tribe, a tribal group in Ziro valley of Arunachal Pradesh. A ritual 'Shaman' ( Aptani tribe are animists and worshippers of nature) consists of the offering of sacrifice to usher in prosperity and fertility.
Myoko is a celebration of friendship and harmony between Aptani villages and so the festival venue rotates among their villages. Visitors would be acquainted with the age-old lifestyles of the tribe, their change-over to more contemporary living and can have a share of authentic cuisines like lal cha and apong (rice beer)on such a festive day like Myoko.
Date-20th-30th March 2018/ To be known
Venue- Ziro, Arunachal Pradesh
14. HOLA MOHALLA
Hola Mohalla is a three day grand 'grand display of bravery and valor' and is one of the biggest festivals of Sikhs. The festival is usually observed on the March or on the second day of the lunar month of Chett.
It is not Holi festival as is often interpreted; however, the date of the fest coincides with the Hindu spring festival Holi or celebrated a day after the Holi.
The term Holla (Halla) means a military charge and mohalla means organized procession in the form of army column from one place to another is in sync with the beating of drums. The Punjabi phrase could mean 'mock fight'. The tradition was started by Guru Gobind Singh, the tenth Guru of the Sikhs.
The event started when Guru Gobind Singh was fighting simultaneously with Mughal emperor Aurangzeb and Rajputs. He had also established Khalsa Panth at that time in the revered town of Anandpur Sahib. He thus started the tradition of Holla Mohalla in 1701 to encourage Sikhs youths to channelize energy in "defense preparedness" and in form of a practice session of mock fights. In fact, Guru Gobind Singh introduced Holla Mohalla on the tradition of 'Holi' and is known to have thrown colours at the participants.
The festive period sees army procession; display of weapons, archery, wrestling, mock battles, and exhibitions followed by kirtans, gatka (mock handling of real weapons) music and poetry competitions.
Nihangs or Akalis are the armed sects of the Sikhs with their blue and orange apparel, twisted moustache and big embellished dumalas(turbans)have been actually at the forefront of preserving the tradition of Holla Mohalla. The Nihangs adorned with various traditional weapons and modern artillery ride elephants, horses and on foot in a spectacular procession are worth watching! The period also organizes Langar for all.
Anandpur Sahib in the Rupnagar district of Punjab has developed as a tourist centre showcasing India's cultural heritage and Holla Mohalla is a great photo opportunity for travellers.
Date- 22nd -24th March 2019
Venue - Anandpur Sahib, Punjab
15. HOYASALA MAHATSAV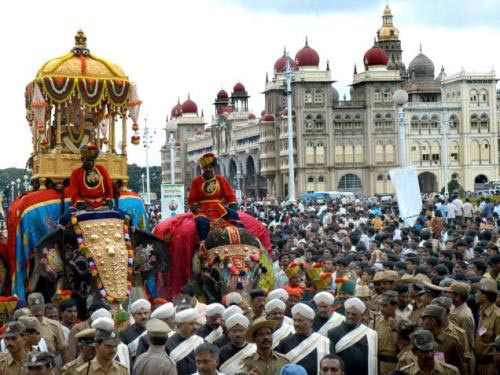 This is an annual dance and music festival Mohatsav held in Belur and Halebid in Karnataka. Hoyasala Festival is a state-sponsored event primarily aimed at showcasing the diverse culture and music expertise of India. Talented Dancers and singers from all over India( both renowned and new) passionately perform amidst the ancient sculptural wonders like Hoyasala temples of Belur and Halebid.
Hoyasala temples are built by Hoyasala rulers during their reign in 10th and 14th century AD. Hoyasala rulers were great patronage of art and architecture, so it is no wonder to see numerous awe-inspiring temples in Belur and Halebid. Both the cities had the distinction of having been the capital of Hoyasala dynasty. Fine detail, skilled craftsmanship, intricate carvings, ornamentation are the prominent features of Hoyasala temples.
A visitor to Hoyasala Mahastov while enjoying elegant dance steps to the tempo of soul-stirring music, could never miss the graceful beauty and solace of Hoyasala temples.
Never to be missed from a visitor's itinerary is the impressive Chennakeshava Temple in Belur. Dedicated to Lord Vishnu, the temple has abundance of sculptures, reliefs, friezes, iconography, and inscriptions. Many exquisite carvings of tales from Indian mythology, secular life of ancient south India enlightened one and all.
Halebid too houses some magnificently embellished architectural masterworks as Hoysaleshwara and Kedareshwara temples.
Tourist can shop for terracotta items and panchaloha statues from Belur too.
Hoyasala Mahastov, organized systematically and lots of dedication gets millions of tourists from across the Globe and the number continues to grow.
Time- March 2019
Place-Belur, Halebid, Hassan district, Karnataka
16. Kochi-Muziris Biennale, Kochi, Kerala
The 4th edition of the largest contemporary Arts exhibition is underway and is initiated by the Kochi Biennale Foundation. This edition has 100 artists from countries as diverse as Lebanon, Japan, Vietnam, Cuba, South Africa, French Guyana, Poland, Spain, and Israel. The theme of the event is 'Possibilities of a Non-Alienated life'. Infra projects, lectures, music performances, movie screenings, outreach programs, and workshops are other features. This global event takes place every alternate year. Anita Dube, the first Kochi-Muziris Curator travelled to 34 countries to select this edition's works. The huge artworks, installations are awe-inspiring.
Date - Ongoing (December 12th 2018-March 29th 2019)
Venue- In 10 venues across Kochi