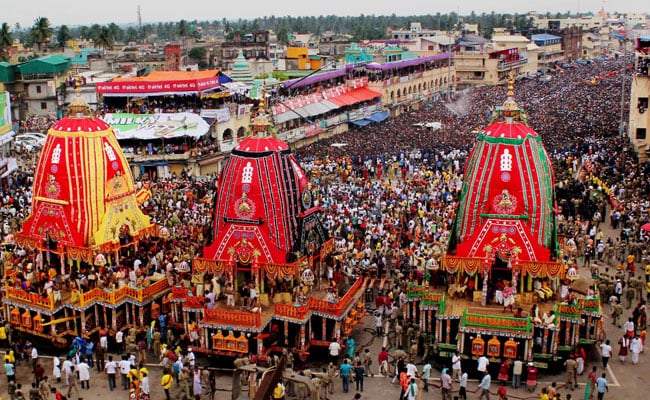 Content in the Article:

An annual 9 day Chariot festival renowned the world over as ' Rath Yatra' takes place in the month of Ashadha Shukla Paksha Dwitiya as per Hindu Calendar. The public festival is considered as an annual visit of Lord Jagannath, Lord Balabhadra and Maa Subhadra,- the presiding deities of the famous Jagannath Temple in the coastal town of Puri, Odisha- to Gundicha Temple via Mausi Maa Temple (aunt's home).
The three richly decorated wooden chariots are a perfect example of Odishan architectural wonder and the massive structures are easily dismantled after the culmination of the event. The gigantic wooden chariots are built to specification as per ancient sastras and wrapped with brightly coloured clothes exhibiting Odisha's intricate appliqué craft; the colour of cloth of each chariot follows a unique pattern and as per the residing deities in each chariot( Yellow for Lord Jagannath, Black for Mother Subhadra and Green for Lord Balabhadra).
It is a one-day ceremony and the journey starts from the main Jagannath temple. Millions of devotees pull the ropes tied to the Rathas.
The procession reaches Gundicha temple by evening and Gods resides at their birthplace for about 9 days. The last leg of the Yatra is 'Bahuda Yatra' when Lords return home. The next ritual is 'Suna Besha' of the deities on the chariots (at Grand Road). Lords are adorned with many kilos exquisite traditional Odissi gold ornaments and jewels etc on the occasion of ' Suna Besha'( Asadh Ekadasi) prior to 'Niladri Bije' or re-entry Lord Jagannath, Lord Balabhadra and Maa Subhadra to the Sri Jagannath Temple (the climax of annual Rath Yatra)
Ratha Yatra in other parts of India-Ahmadabad(Gujarat), Mahesh Rath yatra (Serampore, West Bengal ), Kolkata ( West Bengal), ISKCON Rath yatras.
Ratha yatra in Other parts of World- Silicon Valley California, USA Moscow, New York, Dublin, Belfast, Bangkok, Kuala Lumpur, and many more.
Date: 4th July 2019
Place: Puri, Odisha